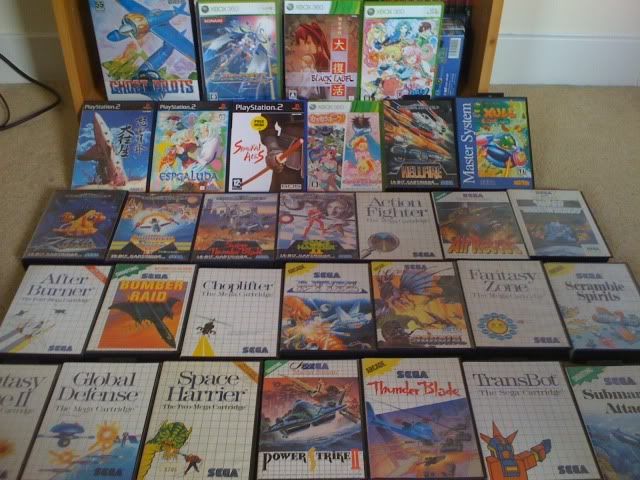 Well after a long drought of buying retro games and more importantly, shoot em ups, I went on a bit of a buying spree that resulted in getting my hands on nearly every shmup available for the Sega Master System, but more on that later.
I'm going to start this post off by showing you my two latest systems pickups, before I get into the games.
SONY PLAYSTATION PORTABLE (1000k Model)
Now this was given to me absolutely free of charge with a handful of games (no shmups sadly), but the only issue with the handheld was that the UMD drive wouldn't play the games. Other than that, it was in near mint condition. I thought about replacing the laser, getting it sent off for repair, but it came to my knowledge awhile back about people hacking their PSPs with custom firmware. I didn't really delve into the details of this process as I never really had any intention of getting a PSP back then. It was only when I saw the growing catalogue of shmups being released and in particular, Darius Burst, that my levels of intrigue hit the roof.
PANDORA BATTERY KIT
Now this is a great piece of kit, that is essentially a way of overwriting Sony's firware to install custom firmware on your PSP. You receive with the pack, a Memory card with the firware already on, and you all you have to do is follow these simple steps.
1. Insert the memory card into your PSP.
2. Hold down the left trigger and insert the Pandora battery into the PSP.
3. Remain holding the left trigger and the orange light should start blinking and some text options should appear on screen.
4. Release trigger and selct 'Install 5.00 M33'
5. Once installed, you press X to reboot the PSP.
It's that simple. It allows you to play games (back ups/ISOS) and movies straight from your memory card without the use of UMDs.
Problem solved. A free PSP once deemed worthless, now with custom firmware.
NTSC US SONY PLAYSTATION 2
with mod chip to play backups and all region games.
Now i've been wanting a JAP PS1 and PS2 for some time but never really got round to looking one up. The few times I've found JAP PS2 consoles for sale, the prices have put me off instantly.
A friend was selling up his collection, or the little he had left, and I was offered this modded PS2. I bit his hand off when I heard it played all region discs and the price he wanted for it.
The console itself is in fantastic shape, and although it's an early mod chip and requires you to activate the chip by timed reset button presses (still confuses me sometimes), it seems to work fine.
I'm very happy with this pick up because it now means I can buy JAP PS1 & 2 shmups (and the catalogue is big), and actually play them. I've already picked up a few over the recent year or so.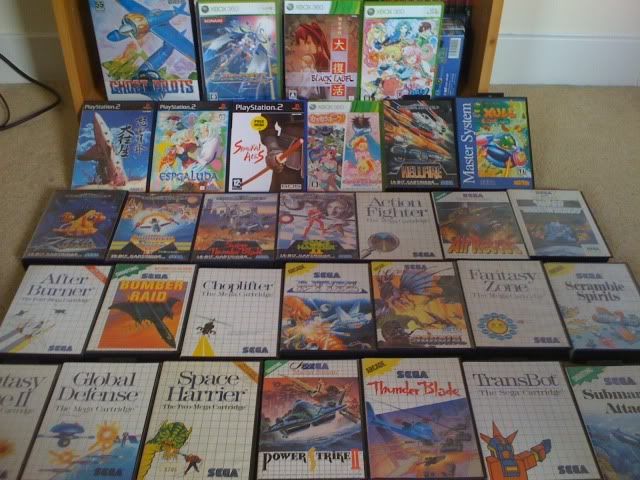 GAME PICKUPS
Now the end of February going into March has been an expensive period, and although i did buy alot, most of these shmups I bought at very good prices hence why it was more a case of, "well i can pay this much now or pay double later"..
XBOX 360
Game: Otomedius Gorgeous
Developer: Cave
Region: NTSC J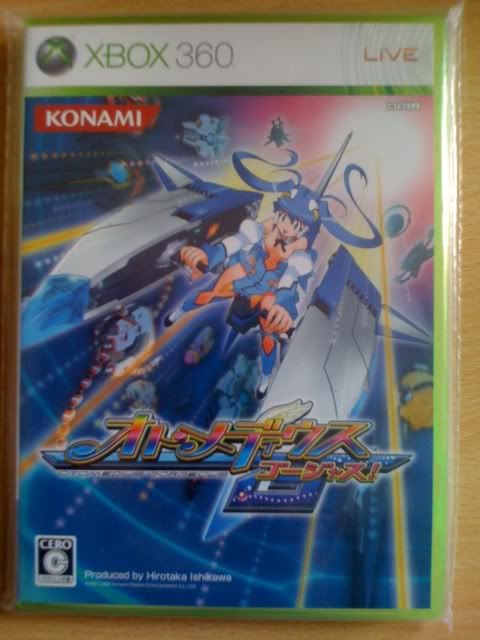 Game: Mamoru-Kun wa Norowarete Shimatta!
Developer: Cave
Region: NTSC J
Game: Muchi Muchi Pork! & Pink Sweets
Developer: Cave
Region: NTSC J (Region Free)
Game: DoDonPachi Daifukkatsu Black Label
Developer: Cave
Region: NTSC J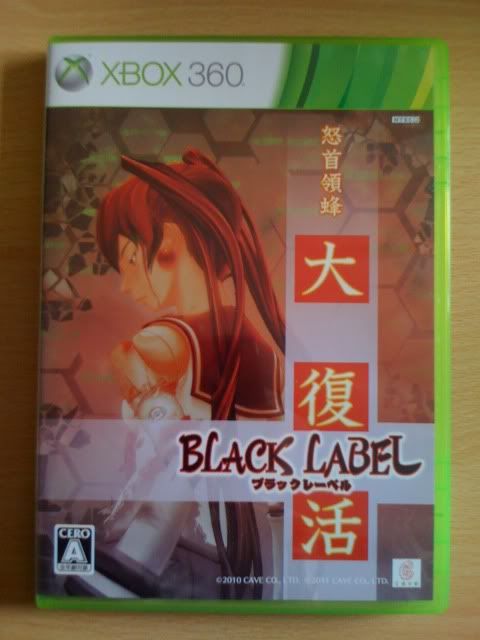 NEO GEO AES
Game: Ghost Pilots
Developer: SNK
Region: EUR
PLAYSTATION 2
Game: Sengoku Ace/Samurai Aces
Developer: Psikyo
Region: PAL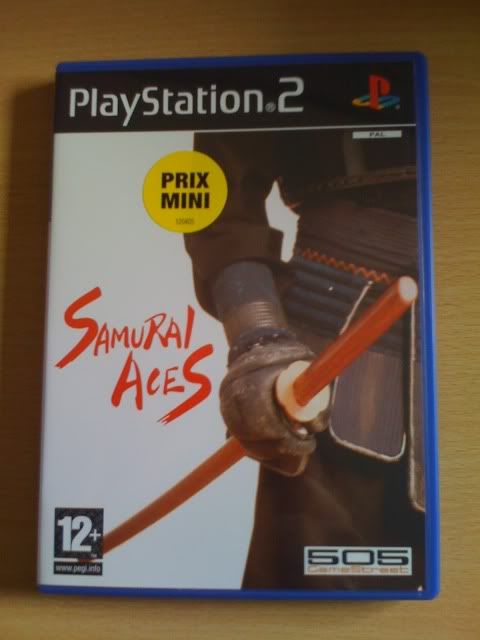 Game: Espgaluda
Developer: Cave
Region: NTSC J
Game: DoDonPachi Dai Ou Jou
Developer: Cave
Region: NTSC J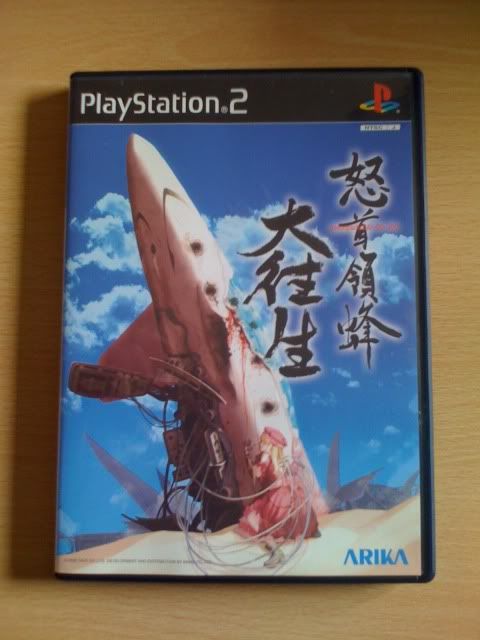 MEGA DRIVE/GENESIS
Game: Task Force Harrier Ex
Developer: Treco
Region: NTSC U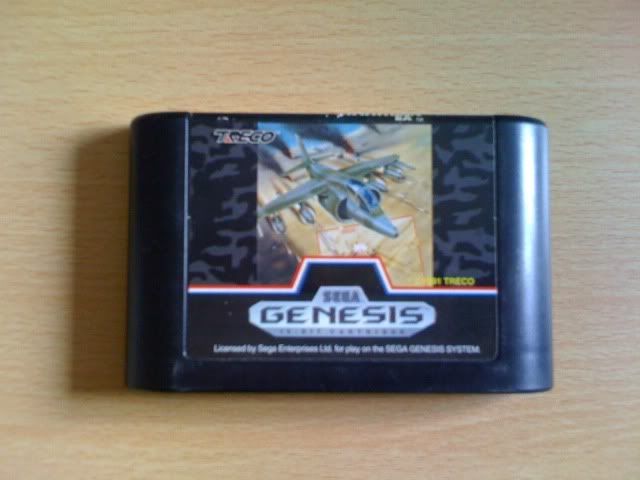 Game: Super Thunder Blade
Developer: Sega
Region: PAL
Game: Space Harrier II
Developer: Sega
Region: PAL
Game: Hellfire
Developer: Toaplan
Region: PAL
Game: Thunderforce IV
Developer: Technosoft
Region: PAL
Game: Zero Wing
Developer: Toaplan
Region: PAL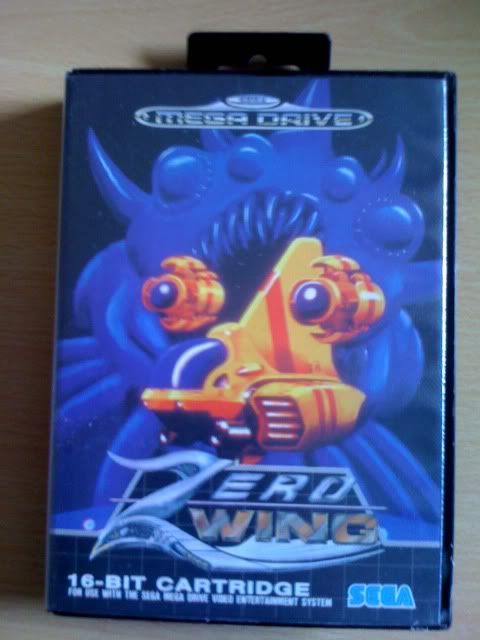 MASTER SYSTEM
Game: Astro Warrior
Developer: Sega
This will eventually be replaced with a Boxed Stand Alone copy but I keep missing the end of auctions.
Game: Super Space Invaders
Developer: The Kremlin/Taito
Game: Action Fighter
Developer: Sega
Game: Air Rescue
Developer: Sega
Game: Space Harrier
Developer: Sega
Game: Global Defense
Developer: Sega
Two copies you might ask? Well I bought a described near mint copy from a seller, but when it arrived it wasn't anywhere near the condition it stated. I took half the cost back in refund and he was going to send me a replacement case (the one sent was smashed to pieces). Instead he sent me out another full copy, so I now have two. One i've re-boxed and will sell/trade, and the other is for the collection.
Game: Thunder Blade
Developer: Sega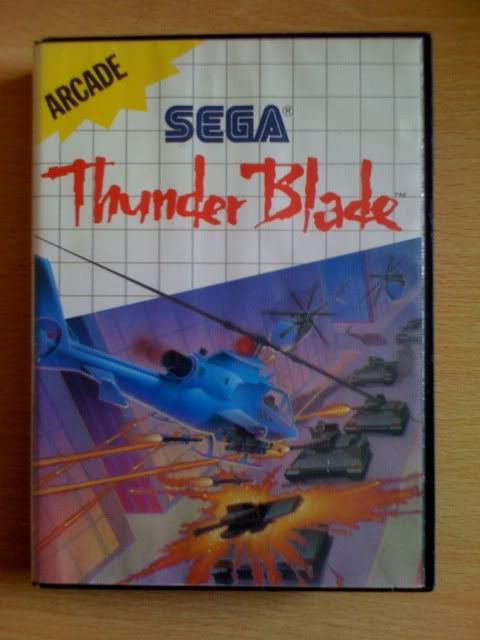 Game: Choplifter
Developer: Sega
Game: Submarine Attack
Developer: Sega
Game: Fantasy Zone
Developer: Sega
Game: Fantasy Zone II: The Tears Of Opa-Opa
Developer: Sega
Game: Darius/Sagaia
Developer: Taito/Sega
Developer: Sega
Game: R-Type
Developer: Irem
Replacement boxed copy as already had a cart only copy of this game.
Game: Transbot
Developer: Sega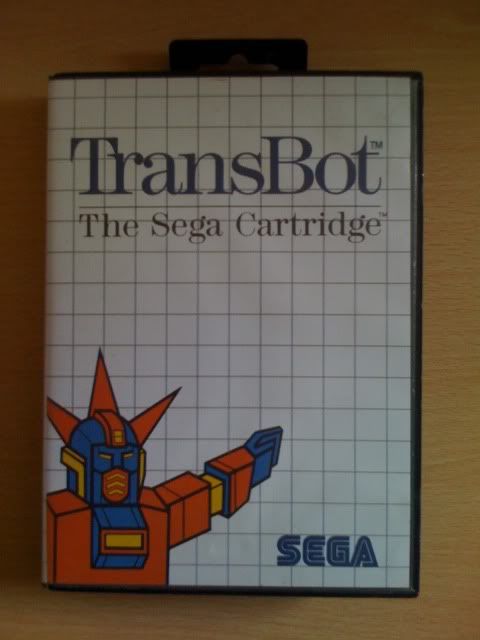 Game: Bomber Raid
Developer: Sega
Imported this is from Australia at a pretty good price. Doesn't seem to appear on UK ebay that often.
Game: After Burner
Developer: Sega
Game: Sapo Xule: S.O.S. Lagoa Poluida/Astro Warrior
Developer: Sega/Tec Toy
Region: BRA
Now this was a game that I had never heard of until I started chasing the full Master System shmup collection. I saw this on Ed's (1CC Log/KollBR), shmup collection list. After speaking with Ed about it, it turns out that it's a hack of Astro Warrior and released in Brazil re-named. Never thought i'd see one of these, but managed to import one in from Brazil. Wasn't cheap mind (for a SMS game), and waiting on a replacement cart as the seller made a mistake before shipping.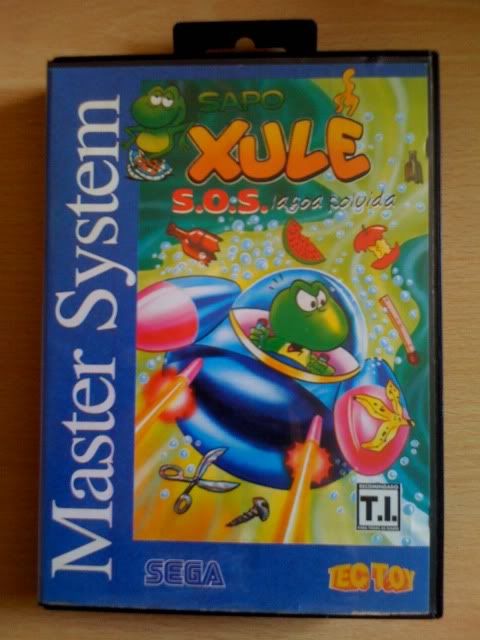 Game: Powerstrike II
Developer: Compile
This was another game I didn't expect to have in my collection so soon. It's on Ebay listed up to anything stupid like £90-£180 these days. I put out a few posts on forums I use in the hope that someone wouldn't know it's current Ebay prices. A few people got back to me, but this one was offered to me for £30 delivered from Australia. It may have someone's name written on it but I'm sure I could remove it at a later date. Just happy to have it boxed, complete and playable. Some say it's one of, if not the best 8 bit shmup money can buy.